The best music festivals from around the world
As anyone who knows me or has read my blog is aware, music is my life. I choose to fill my waking hours with songs, and I really can't do anything without listening to music. It motivates me, drives me and keeps me happy and fulfilled.
When it comes to my free time, the ultimate thing to do for me is to listen to live music. I prefer a concert or a gig over pubbing, partying or clubbing. So for me, music festivals are one of my favourite ways to go on holiday. To spend a weekend listening to music and discovering new artists is the dream, and foreign festivals add an extra dimension of travelling and exploring new places as well.
I've been lucky enough to visit some amazing music festivals around the world, and there are loads more that I want to visit. Although the situation at the moment is complicated, I can't wait to be able to travel again and seek out new adventures, new destinations, and new musical treats.
Here are some of the best music festivals around the world that I've discovered or that I can't wait to explore. Enjoy!
01 – Sziget Festival
Sziget is one of the largest music festivals in Europe, held every August in Budapest, Hungary. Sziget takes over Óbudai-sziget, an island in the Danube just north of the city centre, and is a raucous, riotous explosion of rock, fun and parties. The vibe here is extremely surreal, conjuring up an atmosphere of a carnival that exists outside of the real world, electronically-amplified and full of bizarre experiences and weird decadence. It is often compared to Burning Man in the US due to the remarkable atmosphere that comes to life on this small island just moments from the day-to-day life of Budapest.
Sziget started way back in 1993, as a small group of people who loved the same music and just wanted to get together with some of their favourite bands. Over the years it has expanded massively, and this leafy 'Island of Freedom' is now one of the best places in the world to see a wonderful combination of massive headliners and interesting alternative bands.
A huge extra bonus to Sziget is the chance to visit the gorgeous city of Budapest, and explore the wonderful culture that it has to offer.
02 – Cappadox Festival
Cappadocia is an otherworldly place with an astounding, inspiring landscape, and is a genuinely exciting place to visit at any time of the year. Adding a music festival to this extraordinary backdrop is just the brilliant icing on this stunning scenery-cake!
Cappadox Festival is one of Turkey's newest and coolest music events. Cappadocia is a UNESCO World Heritage Site, and the strange, beautiful landscape creates a magical world that is perfection for alternative music lovers.
This is not a mainstream music festival, and you won't find famous pop names or faces here. What you will find is some of the best music from across Turkey, and diving into this new music landscape is a treat for anyone interested in broadening their musical horizons. Added to this there are installations from contemporary artists, amazing culinary delights, and the opportunity to explore the wonderful fairy chimneys that define the area, by foot or by bicycle.
03 – Isle of Wight Festival
For a tiny island, the Isle of Wight off the south coast of England has a huge music scene. Bestival is legendary, while Eklectika is smaller, quirkier and all about electronic dance music. Whether you are into smooth jazz, elegant classic music or poetry and art, this little island has something for you.
But the festival I really want to see on the Isle of Wight is the eponymous Isle of Wight Festival. This festival has an amazing history – the first gig Bob Dylan did after his motorcycle accident in 1969, a festival bigger than Woodstock in 1970 with performances from Miles Davis, Jimi Hendrix and The Doors, among other remarkable names, and essentially being the biggest counter-culture event in the world at the end of the 1960s. Following its explosion into life, the festival was cancelled by an act of Parliament in 1971…until it was reborn in 2002.
These days the Isle of Wight Festival showcases the best in rock, indie and alternative music from across the world. If you are into older bands like The Rolling Stones and Queen, or more contemporary groups like The Strokes or Kings of Leon, this is the place to go. I can't wait to see some of my favourite groups here, and get a taste of true rebellious, counterculture history as well.
04 – Glastonbury Festival
Glastonbury is one of, if not the most famous music festival in the world, and can make a strong argument to have defined the way modern music festivals work. From a tiny gathering of like-minded hippies way back in 1970, Glastonbury has boomed. Every June the equivalent of a mini-city is constructed on Michael Eavis's farm in Pilton, Somerset, and music fans of every genre, style and taste flock to what is nothing less than a pilgrimage for festival lovers.
With a stone circle and the Green Fields area within its confines, Glastonbury definitely leans in to the mystical, mythological ambiance of this part of the world. Just a stone's throw from Stonehenge, and overlooking the Vale of Avalon of Arthurian legend, there's definitely something magical about this remarkable musical gathering.
One of the best things about Glastonbury is the eclecticism of its lineup. While predominantly known as a rock, indie and alternative festival, headliners on the Pyramid Stage are a truly diverse mix, from Radiohead, Mumford and Sons, and David Bowie to Jay Z, Stormzy, and Kanye West.
Glastonbury is one of the pinnacles of the music festival scene, and is a must-visit for all lovers of live gigs.
05 – Burning Man (US – Black Rock City)
Burning Man is more than a festival. For the people who go year in and year out, it is a way of life. The best way to describe Burning Man is a (temporary) experiment in alternative communal living, an escape from the real world, and a community defined by the Nevada Desert surroundings that are so integral to this weird and extraordinary annual gathering.
The Burning Man itself is a traditional figure of the Summer Solstice, and was first built in the 80s. From this, the event has grown to become something greater than either a music festival or a celebration of summer. Every year Black Rock City is built in the middle of the desert, thousands of festival-goers arrive to construct their own small piece of the community, and once the festival ends the entire site vanishes without a trace.
Although there are a few big name performers, the participants themselves create the festival's entertainment. Artistic installations, musical self-expression and radical technological projects form the basic of this bizarre occurrence, and while survival in the desert is not necessarily easy, it is worth it for this unique experience.
06 – Coachella Music & Arts Festival
Coachella is the world's most glamorous music festival, a feast of models, fashion and perfect Instagram shots…as well as some of the biggest and most popular artists on the globe.
Coachella focuses on electronic dance music, but includes big names from rock and mainstream pop as the headline acts as well. Coachella takes place in Indio, California, located in the Inland Empire region's Coachella Valley within the Colorado Desert, and the temperatures during the festival are as hot as the fashion trends on show.
In addition to the amazing live music and high society, Coachella is full of remarkable artistic endeavours and installations. It is a showcase for visual arts, a tradition which began when they started recycling art and sculpture created at Burning Man! These days Coachella commissions its own pieces, and many have found fame around the world after their time at the festival.
07 – Rock am Ring / Rock im Park ( on June in Nürburgring / Nuremberg, Germany)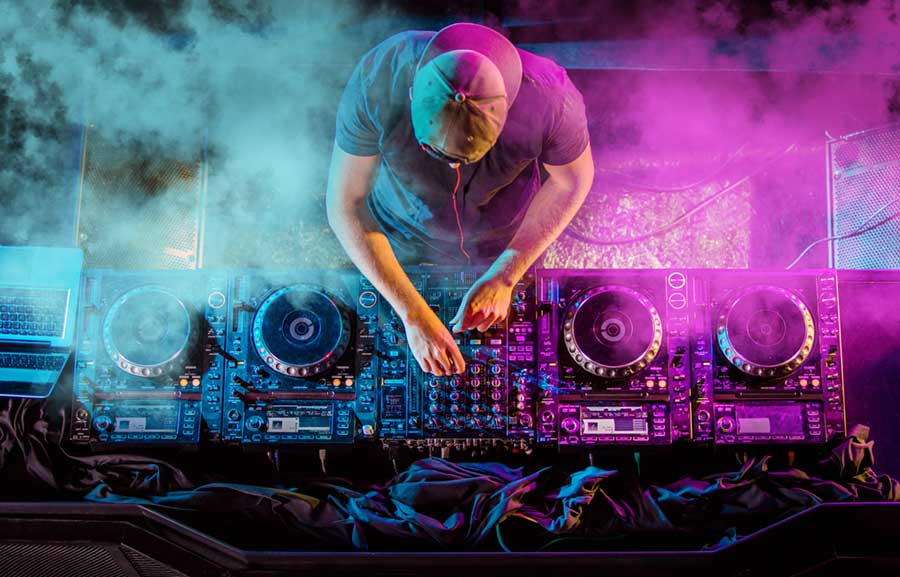 Rock am Ring and Rock im Park are two consecutive festivals that make up one massive, exciting event near Nurnberg in Germany. Rock im Park takes place in the excitingly-named Zeppelin Field in the city, while Rock am Ring is hosted at the Nürburgring race track just outside.
As the name suggests, these festivals are famous for their rock and heavy metal music, with acts like Led Zeppelin, Slipknot, and the Grateful Dead all having played in the past. They are the largest music festivals in Germany, regularly selling out their 150,000 capacity in advance.
Interestingly, the festival has been used as a mass science experiment, to extrapolate what the effect on the Earth might be if the entire population of China jumped up and down in unison. The experiment concluded no significant results…but the sight of thousands of metal fans jumping up and down all at once must have been a pretty impressive sight!
08 – Mysteryland ( in August in Haarlemmermeer, Netherlands)
Mysteryland is the oldest dance music festival in the Netherlands, an extravaganza at Haarlemmermeerse Bos in Haarlemmermeer, a beautiful lakeside garden most famous for Dutch flower festivals.
As the oldest dance music festival in the country, Mysteryland is seen as somewhat of a pioneer, and has often led the way in shaping the electronic music festival scene across Europe and around the world.
The main stage looks out over the beautiful waters of a lake, and is surrounded by lush greenery, as well as the magnificent step pyramid at its centre. It is hard to imagine a more idyllic setting for a serious techno rave-up, and dance music fans should not miss out on this one.
09 – DGTL Amsterdam ( April )
Despite being one of Amsterdam's most prominent and eagerly anticipated music festivals, DGTL is still regarded as part of the underground music scene, and attracts heavy hitters from the scene to its lineups. It is one of the first festivals on the annual summer scene, taking place around Easter (so really a spring event, I guess!), and it combines gritty, grimy spaces perfect for dirty techno with light, airy venues that take advantage of the springtime weather. This makes it an incredibly pleasant festival to attend, and therefore brilliantly accessible – perfect for newbies to the underground music scene!
As well as the best of the underground dance music, DGTL prides itself on its sustainability, with an objective to be energy neutral, and a range of environmental initiatives ongoing throughout the weekend, including a fully plant-based food court! It is therefore one of the most ethical music festivals it is possible to attend.
10 – Primavera Sound (Barcelona Spain)
Primavera Sound in Barcelona is one of the most quintessential European music festival experiences, and really has it all. A glamourous, elegant, historic European city location? Check. A line-up of some of the most exciting and popular artists in world music? Check. A beautiful beach backdrop? Check. Great weather and a cool crowd? Check and check.
Primavera covers acts from all genres of music, and is heaven for music lovers of all tastes. The festival has been going in some form since the 1990s, but really kicked off in 2001. These days it is a multi-day, multi-stage affair that has even spread to another city, with Primavera Sound Porto in Portugal taking place simultaneously.
When it comes to European music festivals, Primavera is very nearly perfect. What is not to like about exploring the remarkable Barri Gotic in Barcelona in the morning, strolling down La Rambla in the early afternoon, then dancing to the best live acts in the world on the beach throughout the afternoon and into the evening?
At the moment, music festivals are sadly on hold as the world acclimatises to the new normal. Hopefully the world will recover soon, and we'll be able to return to discovering amazing new sounds in beautiful places. Until then, the memories of the places I've been and the music I've listened to will keep me going, and I'll just have to keep planning all the festival holidays to go on when I can!